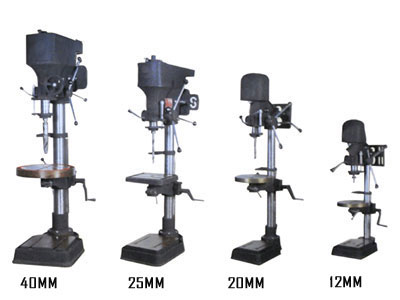 TECHNICAL SPECIFICATION
ORIGINAL MATCHLESS BRAND DRILL MACHINES SINCE 1955
BEWARE OF DUPLICATORS
WE HAVE NO OTHER BRANCH
1.) Metal of the pillar is perfect is and no vibration & it is full un lapping -oil and because of this reason its its accuracy and shining remains longer-time.
2.) Table is of heavy duty fixed and it is machined in right -angle & on fixture.
3.) Head's design is prepared with intention to work accurate-job and to help for full production.
4.) Special spindle bearing for smooth drilling and it is completely balanced with gears and pulley. spindle is made of EN-8 steel with 4 or 6 slots.
5.) RAM is made of Hard steel.
6.) Spindle running is 5 ball bearings. All parts are prepared with grind-finish.
7.) Gears made of perfect materials. Helical gears for long-life & lower-sound.
8.) Machine's design is very simple and can be repaired easily.
9.) In ordered to change the speed of the machine the cover provided on the top are common to all machine and can be difficulty. It also protect the safety & cleansing easily.
Drilling Capacity in mild steel
12 mm
15 mm
19 mm
25 mm
32 mm
38 mm
Pillar Diameter
46.5 mm
58.50 mm
74.50 mm
90 mm
114.50 mm
114.50 mm
Spindle Nose to Table distance
330 mm
482 mm
430 mm
710 mm
762 mm
815 mm
Distance from spindle Centre to pillar surface (in mm)
151 mm
177 mm
217 mm
259 mm
299 mm
317 mm
Table Travel
215 mm
305 mm
381 mm
485 mm
485 mm
485 mm
Taper in Spindle
1\2"Drill
MT 2
MT 2
MT 3
MT 4
MT 4
Number of speed
4 Speed
4 Speed
8 Speed
8 Speed
8 Speed
8 Speed
Spindle Trneel
75 mm
100 mm
140 mm
165 mm
190 mm
190 mm
Pillar length
690 mm
840 mm
990 mm
1450 mm
1490 mm
1510 mm
Overall Height with pulley grand
860 mm
1143 mm
1295 mm
1840 mm
1880 mm
1900 mm
V-Belt Section
A
A
A
B
B
B
Weight (approx.)
40 Kg
60 Kg
125 Kg
180 Kg
250 Kg
300 Kg
Ram Diameter (MM)
49.5 mm
495 mm
58 mm
64 mm
74 mm
74 mm
Motor 1440 RPM 3 Phase

440 volts

0.5 H .P.
0.5 H .P.
1 H .P.
1 H .P.
1.5 H .P.

960 RPM

2 H .P.

960 RPM